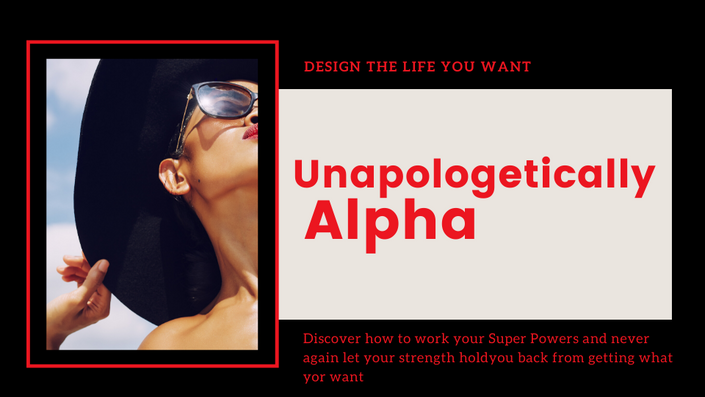 Unapologetically Alpha
MASTER YOUR ALPHA SO YOU CAN ELIMINATE THE OVERWHELM AND GET EXACTLY WHAT YOU WANT.
Design the life you want and attract the man you deserve
LET'S KEEP IT REAL. BE HONEST WITH ME……
Have you ever felt like no one really gets you or appreciates your alpha.....

And when it comes to dating or even actually building a thriving relationship you're over it, frustrated with your choices or feeling like other girls always get what they want. You're often overwhelmed with thoughts like "I'm too busy building my empire, anyway."
Or "Can't nobody handle me."
Or "Why do I keep on attracting guys who won't commit?"
Or "I'm not that intimidating, am I?".
Or even "I'm just too strong for most people.".
Does any of this hit a chord?
You're not alone.
I've been there and I know how frustrating it is. So you bury your head in your work. You either give up or just think maybe one day he'll fall out of the sky.
It's enough that your working yourself to death and "don't have time for no BS".
Fortunately, there is a way.
One that is focused on helping you gather all the intel and insights you need to relax into life while strategically and effortlessly attracting exactly what you want.
Doesn't that sound like a sweet sigh of relief?
---
HAVE YOU EVER HAD A DESIRE TO…
Know how to attract who's right for YOU so you can stop wasting time dating the ones who fall short?
Release control of those things that drive you crazy so you can focus on enjoying the journey without anxiety about your future.
Experience peace and ease when it comes to manifesting the relationship you secretly want.
Attract the perfect mate who just loves you in all your alpha glory so you can relax in knowing you finally found "your person".
Discover century old seduction secrets that will help you experience peace and ease when it comes to manifesting the relationship you secretly want.
And do you want to do it in a way that eliminates the defenses that work against you.
If you are feeling anything I mentioned before, you need a system that gives you the confidence to stand in who you are unapologetically.

This means you will move from dissatisfaction to satisfaction in the areas of your life that just aren't working for you.

Ready to design the life you REALLY want?

---
HOLD UP. WHAT 'S
UNAPOLOGETICALLY ALPHA?
Unapologetically Alpha is our step-by-step program that guides you to mastering your alpha and building a new belief system for attracting the life and the love you really want.


You can move past just wingin' it and hoping things change - to owning it and strategically attracting what you want.

Which means you'll be able to move past being all alone in this process and feeling the overwhelm of thinking you have to work harder ... to focusing on YOU, because you are the most important character your play.

GET IN TODAY Next Step: choose the best option for you...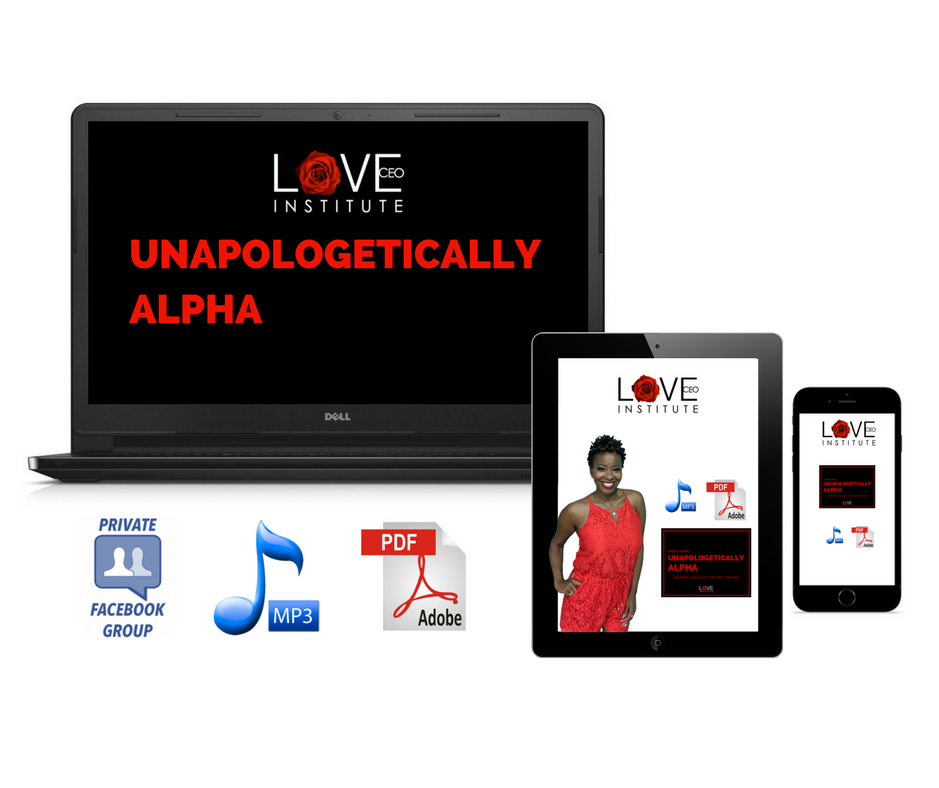 It's time to stop winging it, kiss the guesswork goodbye and master your Alpha:

Week 1: How to identify the characteristics that make you uniquely Alpha so you can rest in "My Alpha is Enough" and know there is no need to change who you are. This includes simple strategies to set boundaries with those who are intimidated by your strength.
Week 2: Identify who is the PERFECT MATE for you. We will fine tune your list and establish a foundational filter so you will have a clear plan of how to protect your time and your space.
Week 3: How to use your ALPHA POWER to work for you, because you will identify the fine live between unapologetically alpha and defensive alpha. Remember unapolgetically attracts and defensive repels.
Week 4: Uncover your truest deepest desires and how to align them with your beliefs and actions. Living intentionally like this will attract what you want with grace and ease.
Week 5: How to let your confidence guide you. Going beyond using it as a shield for protection.
Week 6: How to make yourself the most important part of your life. Discover new ways to take care of you so you can know what it looks like when its time to let someone else in.

Week 7: Identify your unique seduction style and how to use it in every aspect of your life to get what you want.
Week 8: Discovering what's next and how to apply your new beliefs and strategies to your daily life with tools for practical application.
**For Alphas ONLY. If you're a strong woman that means you**

---
Why Should I Listen to You...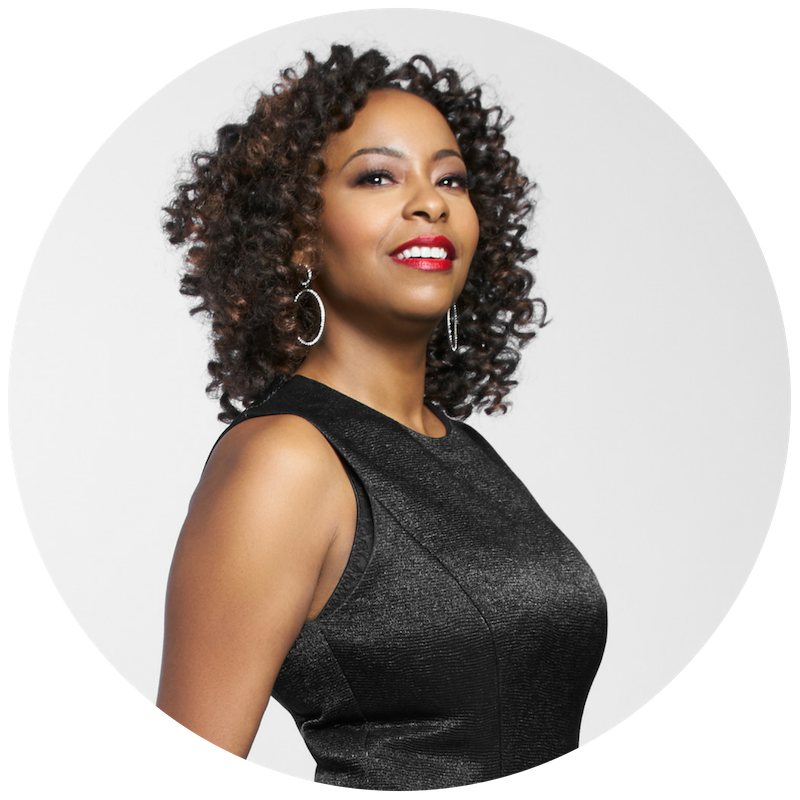 ...is what I assume you just said in your head.

I get it.

We may not know each other that well yet,

So…

Hi! I'm Natasha McCrea, your resident Love CEO. I'm a love coach for Alpha Females who want to be
in a relationship.

Hold on a minute...

That doesn't mean I won't give you life coaching. That just means Love is my specialty. I founded Love CEO Institute to guide Alpha Females to living and loving to their greatest potential instead of the usually busy work they are trapped in.

I've been serving this community since 2012 and personally coaching for 2 years now. I went from being a Love Addict to living the life of a Love CEO. I'm happily marries to my soul mate now, so I know a thing or two about getting the man and designing the life I want.

And I created an in simple and strategic program that you can use to attract the perfect mate and design the life you REALLY want.

---
What They Are Saying About
Shantel H.
I rediscovered my passion and started taking action.

In the world we live in now some of us do so much for others that we push/leave our dreams/destiny aside. Natasha, will guide you each day with simple to do exercises. At the end of the course, I started taking action on my God given purpose. I rediscover my passion and start taking action. I'm currently working on starting my own business without excuses, but with Love and excitement. Thank you Natasha McCrea
Vida G.

What a great experience and a healing and empowering experience.
At first it felt like maybe I would not be so comfortable putting myself out there, so open. However, that soon was not even a thought as I interacted with all the amazing women who shared openly and honesty, making us all vulnerable yet so connected. What a great experience and a healing and empowering experience. Thank you Natasha!
Anita B.
It gave me a chance to look deep inside myself and find my bliss
As a woman and a DV survivor, I'd 100 per cent recommend it. She showed me how to love me again after all I'd been through! Each lesson and activity opened up a new world for me and provided another way to take care of, and rediscover me. It gave me a chance to look deep inside myself and find my bliss and self-care! Natasha definitely knows her stuff, plus she's sweet and encouraging. I couldn't recommend a more nourishing series! Thanks, again, Natasha!!
Your Instructor
Let's Get Started!
Week 1 - How to Identify Your Unique Characteristics
Available in days
days after you enroll
Week 2 - How to Identify Who is the PERFECT MATE for you
Available in days
days after you enroll
Week 3 - How to use your ALPHA POWER to work for you
Available in days
days after you enroll
Frequently Asked Questions
When does the course start and finish?
On April 4th the first lecture will be available to you and each week a new lesson will be released. It is a completely self-paced online course - you decide when you start and when you finish. There will be a Group Coaching Q & A once a week starting
How long do I have access to the course?
How does lifetime access sound? After enrolling, you have unlimited access to this course for as long as you like - across any and all devices you own.
This course is closed for enrollment.